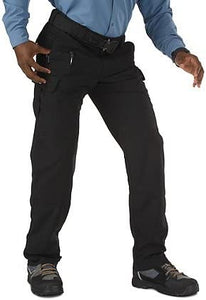 5.11 Tactical Men's Stryke Operator Uniform Pants w/Flex-Tac Mechanical Stretch, Style 74369
Regular price $ 60.11 Sale
Features:
Material Composition: 65% Polyester, 35% Cotton
Inseam: 36 Inches
Rise Style: High Rise
Fit Type: Regular
HIGH-QUALITY MATERIAL - Constructed using premium patent-pending two-way Flex-Tac mechanical stretch fabric, this pair of pants is sturdy and flexible to ensure maximum performance in the field.
TEFLON-TREATED FABRIC - Coated with Teflon, these pants have a protective finish that resists stain, soil, and moisture without compromising breathability. The coating also makes it easier to clean this garment!
FULLY GUSSETED CONSTRUCTION - Featuring a gusseted inseam and a fitted appearance, this pair of pants offers optimum flexibility and a comfortable fit to eliminate your worries about rips and tears.
SPECIALIZED POCKETS - Specially designed for professionals on the go, this pair of pants has 12 pockets including double-deep cargo pockets to provide ample storage and easy access to all your mission-critical gear.
TRUSTED BRAND - Developed with quality in mind, 5.11 Styke Pants are available in 12 colors; TDU Green, Charcoal, Black, Khaki, Stone, Storm, Battle Brown, Burnt, Coyote, Ranger Green, Tundra, and Dark Navy-Blue.
Level up your performance in the field with the Stryke Operator Pants from 5.11! Designed to accompany you in the toughest jobs, this innovative gear offers the ultimate functionality. Constructed from Flex-Tac fabric, this clothing features a Teflon-treated structure that offers maximum resistance against stain, spill, and moisture. It's reinforced with a gusseted crotch to eliminate worries about accidental rips and tears while increasing agility. Its front pockets are sized to fit your phone or a knife. Created to let you always stay on top of the most demanding situations, this pair also comes with various pockets for convenient storage of essentials, mission-critical gear, and other tools. The self-adjusting waistband and articulated knees ensure the snug fitting of the garment. Whether you're on the field for duty or on the road for an extreme adventure, prepare for the toughest encounters by sporting premium apparel built for action. Conquer new challenges and always be ready with high-performance gear from 5.11 Tactical.